Wi-Fi Installation Services
Are you considering a new installation or improvements to your wireless network at your premises?
Do you understand all the necessary considerations for your wireless network needs and how to install it for optimum wireless performance by all users? Are you 100% sure it will run with high speed at all times, and without interruption?
ASH NET, one of the best internet service providers and Wi-Fi installers in Auckland, has a design and installation team ready to create wireless infrastructure for your business which will provide agility, high connectivity and productivity.
Our certified and experienced IT professionals can either help you set up the network infrastructure or completely manage the process from end to end. Whether your business requires a new wireless network full installation or an optimization of your current network.
As we understand all business needs are unique, we design and install a wireless network that fits your specific business requirements and objectives, with optimal performance.
ASH NET's pre-installation site surveys include everything that affects your wireless network in every way. No implementation or upgrade is performed without identifying your needs and recommending the most appropriate installation and hardware, customised to those requirements.
We then deliver a tailored solution that provides optimal performance to your customers, suppliers, employees and anyone else who needs communication with your business in any way.
Post installation, your network is monitored for performance and constant connectivity 24/7 according to your preferred support plan.
EXAMPLES OF CONSIDERATIONS INCLUDED IN OUR SITE SURVEYS
Network access
---
Network load (usage)
---
Hardware supported
---
Site layout and architectural design
---
Coverage
---
Wi-Fi hotspots
---
Wi-Fi routers
---
Wireless range boosters and extenders
---
Wireless design and deployment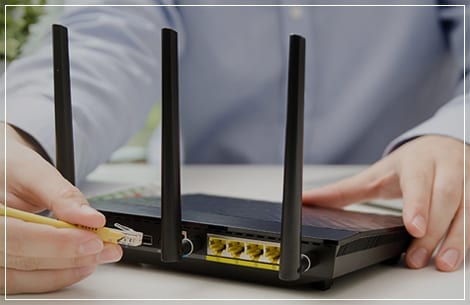 KEY BENEFITS OF USING ASH NET FOR YOUR WI-FI INSTALLATION
A company you can trust!
---
Fast speed wireless networks
---
End to end management of your installation or upgrade from survey to post implementation
---
Project management of all installation and testing requirements
---
Full post implementation support
---
Flexible support plans
---
Performance monitoring 24/7
Contact us by email or phone to discuss more about how we can provide IT Support and Services that will streamline and increase the efficiency of your business